It pretty much sums up the past few months. The beginning of the year I closed The Pastry Prophet and that means closing all my business accounts, notifying customers, and getting my affairs in order. What I thought it would feel like is a breaking of a love affair at most or at least saying goodbye to a loved one.
It was neither. It felt like letting go of a boulder. What also surprised me is that I wasn't in pain for letting all my hard work go. I did feel guilt. I spent so many years working, fighting, and feeding my dream, but it didn't pan out. Not all dreams come true.
But …
I think a factor that helped me not to implode is the realization that I need to fix the damage. Working a full time office job, prepping pastries and taking orders at any free moment, and hustling on the weekend, I became frazzled and fat. I was bursting out of my J.Lopez brand Kohl's jeans like an overstuffed sausage, my back was strained and sore, and my doctor tut-tutted my blood pressure reading.
I worked out at the gym and felt disheartened watching people flitting around like gazelles while I lumbered around like a sedated rhinoceros. A few of my friends are runners and one thing I noticed is that they make it look like better than a pint of premium ice cream on a rainy day. I wanted in.
My good friend Tish suggested that I download Couch to 5K. So at age 45 38, I spent $2 for the phone app and started running. It was easy at first: Run for a minute walk for three. After the second week, I got distracted and time lapsed. I was determined to finish the program so I started from square one.
Three months later I finished the app and worked to running a full 5 kilometers (3.11 miles for you Americans).
Then I heard about the Hot Chocolate 5K/15K. Accomplish a goal and receive chocolate. That's a win/win for me.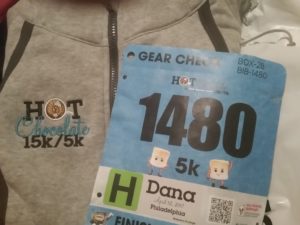 Although I'm in the last group at least I got this awesome hoodie!
Saturday, April 1 Race Day
Tish – a seasoned runner – sacrificed her sleep and comfy warm bed to run with me. I'm pretty sure I have to take a bullet for all she has done for me. Although Tish is way faster she hung out in the back with the last running group to make sure I wasn't alone in my sweat and sadness. Tish has first pick of my organs and add some blood to that IOU Inventory.
As for the weather it rained for several days prior, but the sky was finally clear. Still it was cold as a bitch. Anticipation had me excited, but not nervous. I knew the only opponents were my mind and body. I was determined not to be defeated.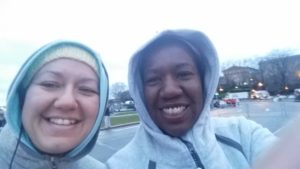 I don't deserve friends like Tish.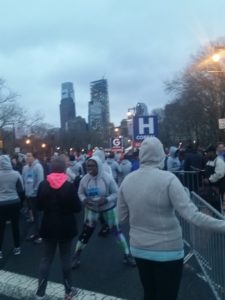 The skies are finally clearing!
It quickly warmed as our group started to run. Some runners dressed in costume, others in full running gear, and the newbies were obvious – we were the ones grinning.
Forty minutes later, Tish encouraged me on to the finish line.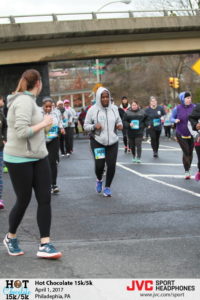 I think I can. I think I can. I think I can.
Was I the fastest? …. HAHAHAHAHA …. no.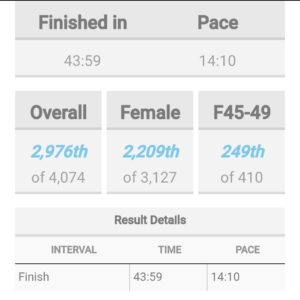 So I'm not Usain Bolt. I wasn't last and I finished the 5K. Can Bolt make an awesome pie?
I did it and it encouraged me to work towards future goals. Although my pastry dreams did not work out as I wished I still have other dreams to work towards.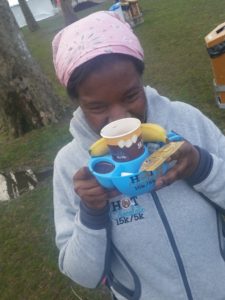 And I earned chocolate.
Story, recipe, and photos by Dana Prophet