Within a section of Philadelphia lies a hilly area where parking is scarce, hipsters are plentiful, and food is poppin'. This magical area is called Main Street Manayunk and today I visited Manayunk StrEAT Festival.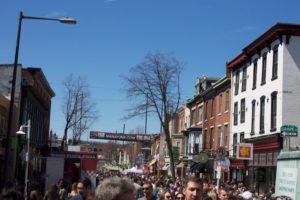 A whole lot of hungry people filled Main Street.
On Sunday, April 9th it was the annual Manayunk StrEAT Festival. I was fortunate to be a judge and help pick the best gourmet vendors and food trucks who made a dish with a signature ingredient: Strawberries.
With great responsibility in the tasting challenge that laid ahead of us my fellow judges—Cassie Hepler of Explore-Philly.com and Elyse Castillo of Philly Food Tours met up at the Manayunk Development Corporation office and the battle plan was discussed with our guides Megan and Caitlin of the MDC team.
We were charged to pick the Top 3 Food Trucks and Top 3 Gourmet Vendors with the aforementioned selected ingredient. To my delight the culinary wizards in Vendor Form found a place for the delightful berry to used in not only sweet, but also savory dishes.
Everyone brought their A-Game, but there were some that stood out from the rest.
My Honorable Mentions: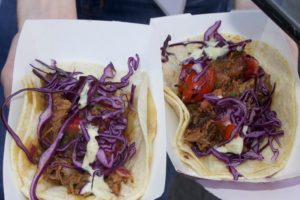 This is an authentic taco! A swirl of colors and flavors that satisfy all the senses.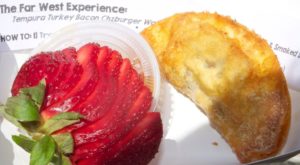 Dump N Roll's offering: A yummy little dumpling filled with turkey bacon cheeseburger with a tangy strawberry dipping sauce.
The Winners: Gourmet Vendors
You know you are doing something right when YOUR pulled pork slider with slaw wins First Place! Congratulations to Stockyard Sandwich.
Stockyard Sandwich was caught off guard when we handed them their First Place Gourmet Vendor Award!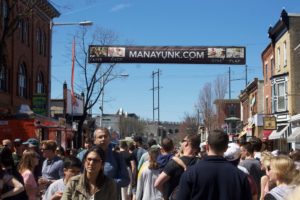 All the walking burned the calories from the sampling! Everyone was in good spirits with the various lunch trucks and food vendors available.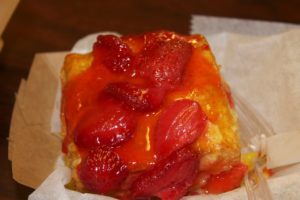 The Birdie's Biscuits reminds me of my childhood. Southern cuisine made modern with a choice of lemon curd or pastry cream topped with strawberries bursting with flavor. Slip on some yoga pants and forget the calories just for the moment.
Birdie's Biscuits knows how to re-brand a classic to a whole new generation with their fresh ingredients and old-fashioned know-how. They took the Second Place Gourmet Vendor prize.
If you are looking for a delicious cultural mix then head over to The Spicy Belly. The Strawberry Rice Cake secured Third Place Gourmet Vendor prize.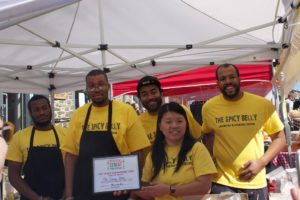 Here's The Spicy Belly team showing off their Third Place Gourmet Vendor award. I'm looking forward to trying other Jamaican-Korean fused entrees.
 The Winners: Food Trucks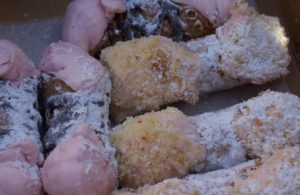 Cannoli World puts love in their cannoli.
Allow me just for a minute to go on and on about these particular cannolo. I ate one and I could instantly taste that the shells were freshly made – a firm but not too thick shell; a smooth, tasty, but not too sweet cream, and just enough confectioners sugar to mess up my black shirt (a necessary hazard to the job). Three samples had chocolate drizzle and the Strawberry Shortcake was crumb coated. My fellow judges concurred that Cannoli World ran away with the top award.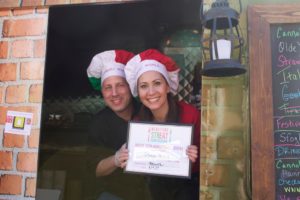 First Place Winners Food Trucks! Next time I'm in Jersey, I am searching out their truck. I need a cannoli fix!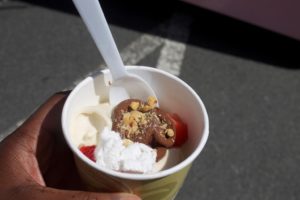 There's a new boss in town, Ice Cream. It's called The Chilly Banana.
That's why they won the Second Place Food Truck award.
After floating back to earth after trying the Banana Paris (fresh strawberries, Nutella, hazelnuts, CMWC (coconut milk whipped cream), my first thought was how this vegan-friendly banana whip would make an amazing filling to my Vegan Peanut Butter Cookies. A great way to beat this upcoming summer's heat!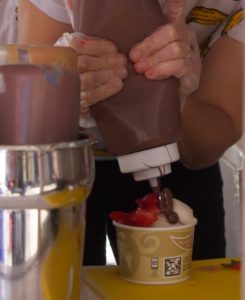 Like the ice cream without the guilt? The Chilly Banana has a delicious dish for you!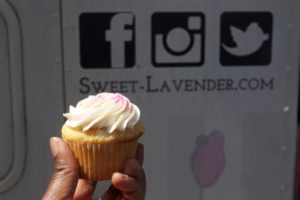 Three things that I love: Sweets, Lavender, and Strawberries!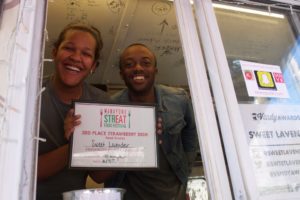 Sweet Lavender won my heart as well as my vote! Third Place Winners Strawberry Dish Food Trucks!
My faithful blog readers know that when people talk about the never ending on-going cupcake trend I roll my eyes as hard as possible.  Sweet Lavender made me eat my words within one bite of a Strawberry Lavender Cupcake.
It's everything a gourmet cupcake should be. Simple ingredients with a complex flavor! The icing was sweet but not enough to scream "SUGAR". The cake was moist, and the filling had enough flavoring without overtaking the cupcake!
Brides who insist on having cupcakes as their wedding cake, I demand you look into Sweet Lavender!
No matter if you are fan of sweet or savory, look out for the next Manayunk StrEAT Festival (check out their website). Besides the plethora of food trucks and vendors, the quirky and functional shops are near by to drop into. Take a break to walk the Tow Path or pet one of many dogs walking with their humans at the Festival.
If you indulge in too much delicious options, you will burn off most of the calories walking the infamous Manyunk hills in the brilliant sunshine. A word to the wise, take the train unless you know of the sacred free parking spots in the area or you are a parking maverick and care little if your vehicle is towed or ticketed.
There's always something interesting going on in Philadelphia or in one of its many sections. Discover the various cuisines, cultures, and heritages offered in Manayunk.
Story, recipe, and photos by Dana Prophet