A Perfect Combination of Cookies, Peanut Butter, and Cheesecake
I'm a food snob with a guilty pleasure. There are some process foods I enjoy, but for the life of me I cannot figure out why people drop their drawers for Girl Scout cookies.

It could be that I was the world's worst Girl Scout. I think I quit after a month. It's an organization that supports girls regardless of age, race, religious, or ethnicity. I'm all for that – I'm against the manufactured-made boxes of cookies that people are ready to trample others for.
I would rather give the Girl Scouts my $4, but I have been informed that the money doesn't count – it's the number of boxes sold. I wondered how I can support this organization while enhancing the product and making it fun.
Fun for me anyway, it doesn't take much to keep me entertained.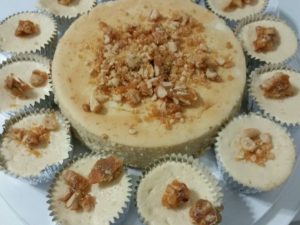 My opinion: They taste like Nutter Butters.
My plan: Make a cheesecake out of them.
Preheat oven to 325 F.
The Crust:
Entire box of Peanut Butter Sandwich cookies
Separate the cookie from the cream
In a food processor, grind up the cookies.
Mix in 1/3 cup of granulated sugar and 3 Tbsp melted butter for the crust.
Pour crumbs into a lined springform pan with wax or parchment paper. If you choose to make cheesecake minis, use cupcakes with a muffin tin. Place 2 Tbsp of crumb in each up. Pat down the crumbs to make a firm crust.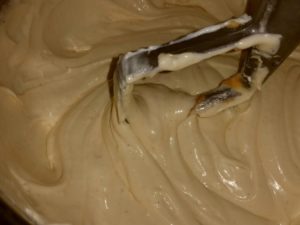 The Base
3 cream cheese (8oz. each) room temperature
1 cup granulated sugar
3 eggs room temperature
½ cup fat free sour cream room temperature
1 tsp vanilla extract
Peanut Butter Sandwich Cookies cream insides 
Beat cream cheese, sugar and vanilla with mixer until blended. Add peanut butter mixture. Add eggs, 1 at a time until blended. Pour over crust.
Mash up the peanut butter cream with 2 Tbsp of melted butter.
Mix on medium speed until blended.
Bake 55 min. or until center is almost set. Run your knife around rim of pan to loosen cake; cool before removing rim. Refrigerate cheesecake overnight or 4 hours minimum.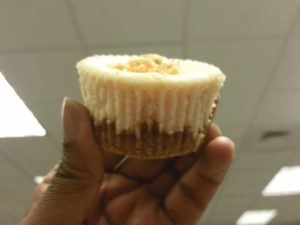 Peanut Brittle topping to jazz up the look.
First step: Line a sheet pan with a Silpat and lightly spray with cooking spray.
1 cup sugar
20 drops of lemon juice (real lemon – not the fake crap)
1 Tbsp. butter
1 cup of salted dry roast peanuts

Make caramel the dry method
Once the sugar is completely caramelized add lemon and butter. Then add the peanuts.
Pour the mixture into the pan and with an offset spatula flatten the brittle. It will harden quickly.
Once cooled take out your aggression by smashing up the brittle and sprinkling on top of the cheesecakes.
The Outcome:
No matter how you feel about Girl Scout Cookies, this is a great way to support a fantastic organization, get a sugar fix, and have fun revamping a recipe.
On a serious note, support the Girl Scouts.