Original Bartenders Premium Liqueur Ice Cream
I know people who can eat ice cream for breakfast, lunch, or dinner and every snack in between if left up to their own volition. Personally, I like ice cream on rare occasions and only if the good kind (meaning small batches).
So when I got my greedy hands on a chocolate liqueur called Original Bartenders Premium Selection™ called Hot Sex (a large quantity of it and aptly named), my mind instantly went into ice cream mode. Don't judge me. My mind always leads to desserts.
To be honest the weather is starting to scorch and I need to keep my ice cream skills sharp.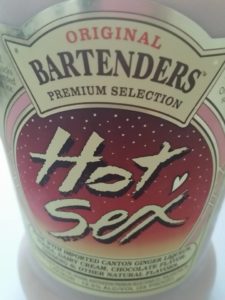 I hope the person who thought of this name received a bonus.
The issue with making ice cream with alcohol is that it will not freeze as hard at a traditional egg and milk ice cream recipes. But I also did not want to skimp on the Hot Sex.
What made Hot Sex Ice Cream different from Bailey's Ice Cream is not only the kick of chocolatey booze but the nice bite of ginger. So if you want to be technical – the ginger and ginseng herbs are really medicinal.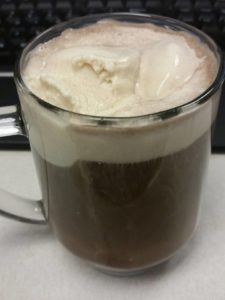 Your move Starbucks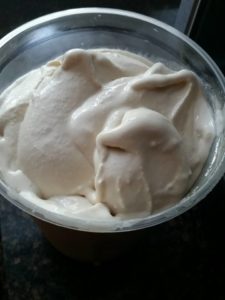 I really wanted to just eat it straight from the ice maker's bowl
This ice cream elevated the mood of my office mates. Since I need both uppers and downers in a legal form I made my version of an Affogato al Caffè. Yes, I know affogato should be made with espresso, but I don't have one and I'm not using that gross K-Cup. French Press coffee is much better in my opinion.
So do yourself and your friends and family a favor and make this ice cream. Sure it is not as easy as grabbing a pint as your market, but this stuff is yummy. And if you feel like sharing everyone will think you are awesome. The truth is that you have a summer outfit to squeeze into this month.
Makes 2 quarts
2 ½ cups whole milk
1 cup granulated sugar
½ cup granulated sugar
2 cups of heavy cream
Pinch sea salt
2 tsp of REAL vanilla (not that McCormick's crap
½ cup Hot Sex Liqueur
10 large egg yolks (Yes this is a lot. You won't be sorry)
Put your ice cream maker container in the freezer two days before
Combine the heavy cream, vanilla, and vanilla in a separate bowl
Place your egg yolks and ¼ cup of sugar and egg yolks in your mixer and whist until foamy and leaves whisk lines.
Add your ½ of sugar along with the milk in a pot and mix until sugar dissolves. Scald the mixture do not boil.
Temper the eggs mixture to your milk mixture by adding the milk to the eggs a quarter cup at a time. When the mixing bowl feels very warm at the bottom pour that mixture back into the pot. If you rush this step you will end up with scrambled eggs in sweet milk (yuck).
With a wooden spoon cook the combined mixture on medium heat. Once again do not leave your pot unattended or let it boil. Once your custard thickens it should coat the back of your spoon.
Strain your mixture and blended it into the heavy cream, vanilla and Hot Sex mixture.
Place into a container and let it cool down overnight. You can store this mixture in your refrigerator up to 4 days. If you want to rush this step put this mixture in an ice bath.
Churn your ice cream mixture in your ice cream maker according to the manufacturer's instructions.